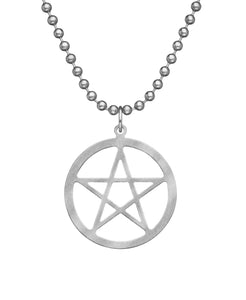 Pentacle
Regular price
$15.99
$0.00
Genuine U.S. Military Issue Pentacle
with

Beaded Chain - 24"

The Pentacle is an amulet included in magical evocation, usually made of paper or metal, upon which the symbol of a spirit or energy evoked is drawn. It is often worn around the neck or placed within the triangle of evocation.

Originally, the Pentacle was found in Mesopotamia and promoted as a sign of Imperial Power. In fact, it has been observed by Christians and other groups to mean many things. Today it is used primarily by Wiccans to represent a positive spirit over the four elements bound together ie: Earth, Wind, Fire, and Water.

Recognized in the Wiccan Community as an amulet in magical evocation, this Genuine U.S. Military Issue Pentacle is precision carved out of non-magnetic, non-reactive, brite finished, 100% 304 stainless steel.
1" tall x 1" wide x 3/32" thick.
24" stainless steel dog tag chain.
100% Made in the USA.
Lifetime Warranty.
---
Share this Product
---
More from this collection